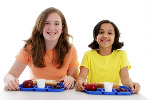 The American Dietetic Association calls for local support among schools and communities to work together and provide healthy and affordable meals to children as a means to help them develop and practice healthy behaviors for life. This was published as a position paper in the August issue of the Journal of the American Dietetic Association. This position paper also represents the official stance of the association.
The association believes that schools and communities should be working together to share in the responsibility in providing children with access to nutritious and affordable foods and beverages. School based nutrition services such as the National School Lunch Program and the School Breakfast Program should also be an integral part of a total education program. Such programs and other wellness policies may help promote and help students to develop healthy behaviors that they can follow all through life.
ADA believes that nutrition programs in schools can be vital to help children stay healthy and prevent them from gaining excess weight or become obese. When healthy dietary habits are practiced early in life, it is easier for children to follow them later in life. That is why teaching kids proper nutrition as early as possible can help prevent a number of health problems in the future.
In the said position paper, ADA emphasizes that schools and communities have a shared responsibility to teach and help children develop proper and healthy eating habits by providing high quality, affordable and nutritious meals. This applies to all food products and beverages sold and served to students during school days. Not only will such programs help provide adequate nutrition to students, they may also provide positive influence in kids in trying to develop healthy eating habits.
Source: http://www.dlife.com/diabetes-news/content/developing-lifelong-healthy-behaviors-children-shared-responsibility
Tags: american kids, healthy behavior, healthy diet, healthy eating habits, healthy habits, kids healthy habits