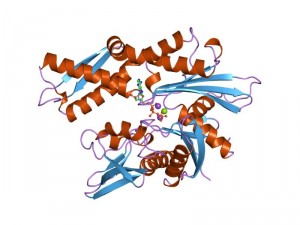 A study has shown that a heat shock protein, which increases in expression when cells are exposed to high temperatures or stress, is able to reverse the loss of function in the nerves of diabetic lab mice.
The research, written by Michael J. Urban and colleagues at the University of Kansas, suggests that the protein, Hsp70 (pictured), can be used in the future to cure the numbness of the limbs that affects many diabetics, often referred to as diabetic peripheral neuropathy (DPN). The study has been published in ASN NEURO.
DPN is caused by increased levels of blood glucose and is a common complication of diabetes characterized by high levels of pain, death of sensory neurons, and numbness in the arms and legs. It has been a difficult condition to cure, with treatments limited to heavy glucose control and pain management.
The research was conducted by inhibiting the activity of Hsp70's regulatory protein, Hsp90, which led to the reversal of neuronal degeneration in mice afflicted with DPN. The inhibition was caused by a novel C-terminal inhibitor called KU-32. The increase of Hsp70 refolds aggregated and damaged proteins while providing pain relief by blocking the JNK protein kinase activity.
Source: Science Daily
Tags: diabetes research, diabetes treatment research, diabetic peripheral neuropathy, diabetic peripheral neuropathy research, diabetic peripheral neuropathy treatment, dpn research, dpn treatment, heat shock protein research, hsp70 and diabetes, michael j urban, university of kansas diabetes research